WE NEED YOUR HELP To Continue To Serve Our Community
Facing Our Growing Crisis    The EChO Food Bank is now serving 672 families. That's nearly a 40 percent increase over the number of families visiting the food bank in 2019.
Nourishing Our Children    This summer we fed 174 local children from 80 families. We're extending this vital support to remote learners.
Providing Job Security    Numbers have doubled at the EChO Job Center since 2019. Right now, we are helping 90 job seekers.
Offering Hope When It Matters Most     Since the virus hit in March, 161 new clients have sought help from EChO's Client Services Department, which provides a range of emergency and long-term assistance. In September alone we met 1,608 client needs— a 33 percent increase over our monthly average.
Will You Help Us to Continue to Serve Our Community?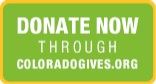 Colorado Gives Day Donations can be scheduled NOW!