As a mom of 2 young children, I want my kids to grow up knowing they can be anything they want to be.  When I grew up, I saw my parents struggle and knew that we were poor.  No one ever asked me if I wanted to go to college so I didn't think I could…
...But then I found myself working 2 jobs to make ends meet.  I began visiting the EChO Food Bank when I was 18 and over the years I have received food, gifts at the holidays for my kids, school supplies, and help paying for car repairs.  When I became tired of working 60 hours a week but didn't know what I wanted to do, the EChO Job Center paid for me to take the Meyers Briggs test which showed that I have an aptitude for medical jobs.  I completed my CNA certification and then my certification in Sterile Processing.  I work at a Denver hospital and realize that I can take on new challenges and be successful.  I want my children to see that there is always a way to make your dreams work.
Will You Help to Continue to Serve Our Community?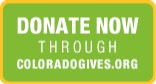 Colorado Gives Donations can be scheduled NOW!